***Mt. Misen, Part III***
The soft glow of dusk unfurled before us as we attained the summit of Mt. Misen to watch the sunrise. A cold wind swept past as the five of us, Piro-Chyan, Miki-Chyan, Asa-Chyan, Hisachan (a.k.a. The Princess), and myself, all pulled our scarves and coats closely around our bodies, high atop Mt. Misen above the sea.
At the summit, leaning on rails, sitting on rocks, or standing beneath a wooden canopy, other visitors gathered, their silhouettes stark against the twilight sky, patiently awaiting the first rays of dawn.
Together, we joined the crowd of sunrise spectators, the ocean spread out far below, while the sky slowly swelled with the golden light of morning.
Far, far below, a tiny island poked its crest above the waves. Its name is Kogurokami, which The Princess insists means "Small Black God," but which I am certain means, "God of Chocolate Chips."
People young and old had ventured out on this cold morning to witness the first sunrise of the new year. This event, called in Japan Hatsuhinode, is one of the oldest customs of the East, in which the island-dwelling, cat-worshiping people of Japan, fearing eternal darkness after the calendar's end, gather to make sure that the sun will actually be coming back again next year.
Seriously though, among the numerous gods and goddesses of ancient Shinto, few, if any, are more celebrated, more powerful, or more important than Amaterasu, Goddess of the Sun.
According to the oldest Shinto stories, Japan itself was born from landscapes painted by Amaterasu and her two brothers, and to this day the Emperor of Japan is said to be among her descendants. Observing her rising on January first is considered to be one of the best ways to begin the new year.
At this point, though we were all quite happy to be but a few moments away from the symbolic first ascension of Amaterasu in the heavens of the new year, we had also all been up pretty much all night following the standard New Year's festivities.
The word for upbeat and energetic in Japanese is "genki." We were not genki. We were cold and sleepy. It took several attempts to capture a photo eliciting adequate "genkiness."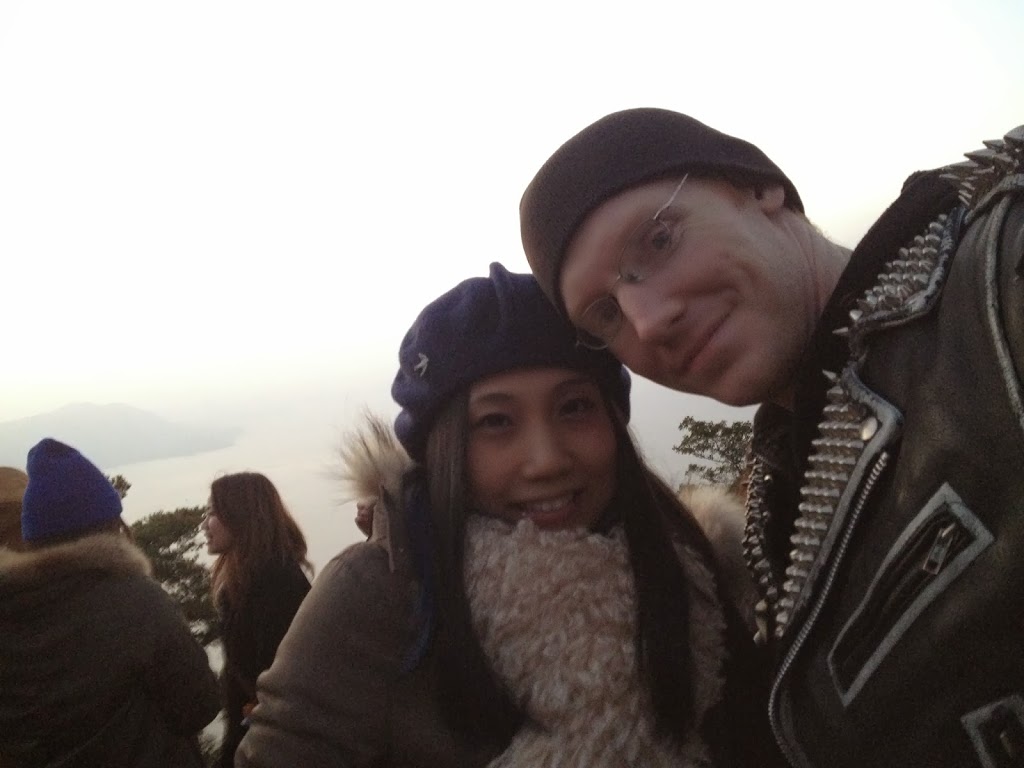 Genki.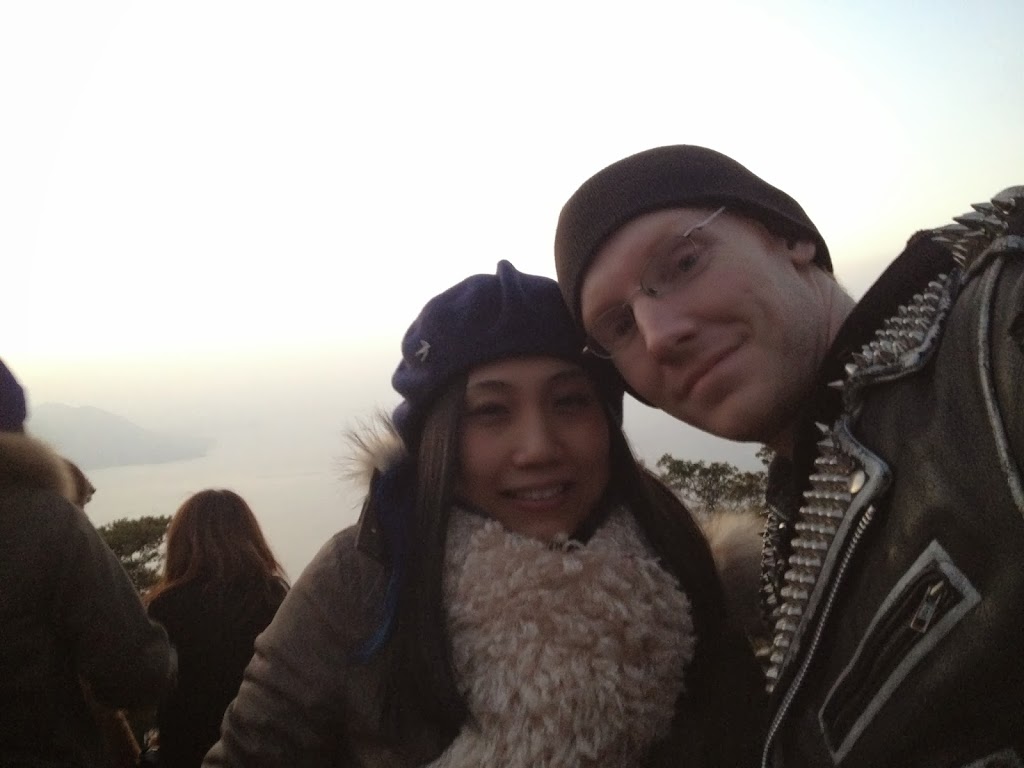 Not so Genki.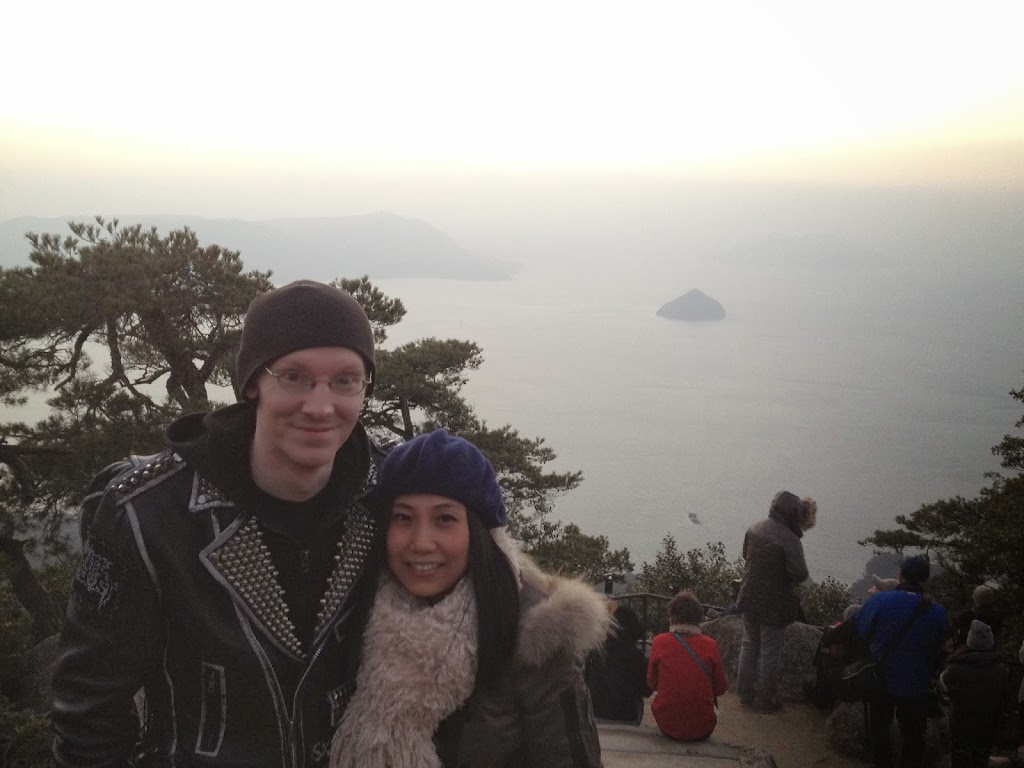 Overly genki.
I believe in this last photo I was attempting not to laugh inappropriately at the person taking our picture, but Hisachan says I look like I'm having a dookie. I was pretty tired at that point, so I suppose either option is possible.
Slowly but surely, the great Amaterasu neared the cusp of dawn. More and more, people began to take photos to capture the moment—"right now, this is it, I've got it!"
All the while the sky swelled with light, changing her lofty raiment from gloom to glory. It seemed as if the blazing edge of the sun would emerge at any moment—mere seconds away!
The crowd grew tense and still.
Suddenly, a cheer went up from somewhere behind us. Our assemblage wheeled around to see a second outcropping of the mountain where another crowd had also gathered.
Being just a little bit higher up than us, they beat us to the sunrise, those bastards!
But as it turned out, there was more than enough sunrise for all of us, for in the next few seconds the very first rays peeked above the cloudline, and our own assemblage, too, gave a spirited cheer!
All around was laughter and happiness. Countless photos were snapped again and again by everyone present, ourselves included.
Someone even gave me explodo-head.
And by the way, for y'all with iPhones out there, this is the differs between HDR and non-HDR photos, especially when you want the sky to look like the sky in your photos.
Or if you want to minimize explodo-head.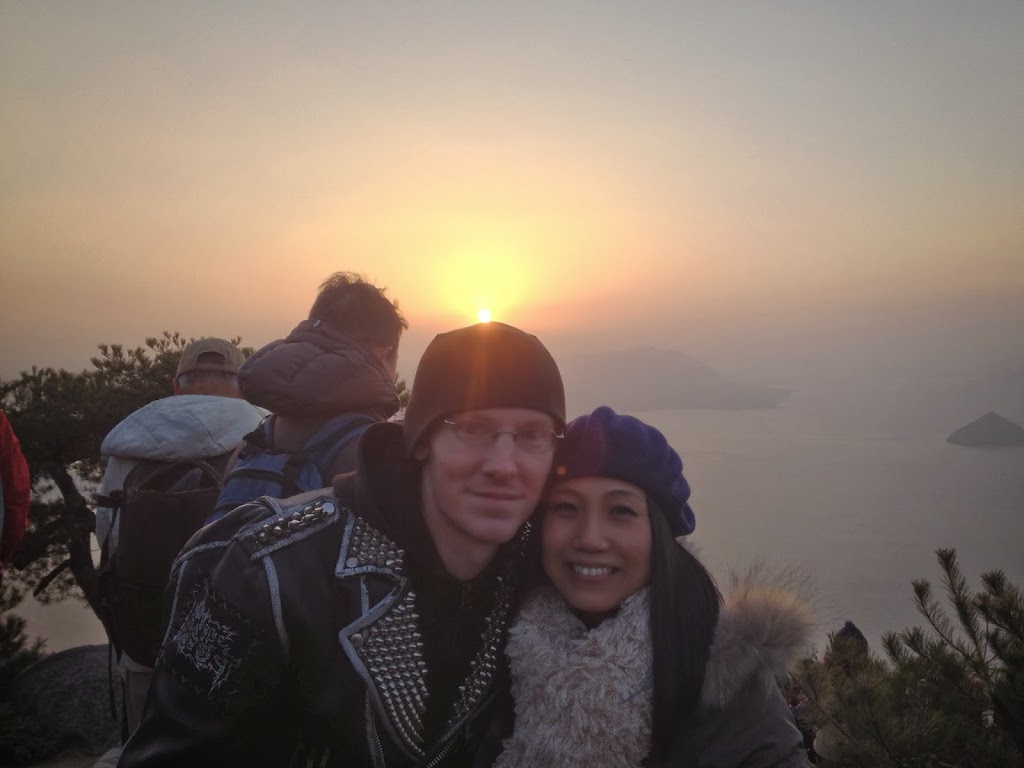 HDR = less explodo-head.
Also Note: Questionable genkiness…
But then, the sunlight suddenly vanished again, as an undulating cloud peak obscured its shining edge. At once, both crowds, ours and the those lofty bastards who had beaten us to the prize, let out a loud, disappointed "Awwww…"
Then, somewhat ridiculously, we all focused intently to see if it would come back—like rooting for a baseball hero, or something. Home run! Home run!
"Ganbatte Taiyou-San!" ("You can do it, Mr. Sun!") I said aloud, much to the amusement of those around me.
And wouldn't you know it, she came back, just as we had hoped! Of course, a second photo-orgy immediately ensued.
Higher and higher rose glorious Amaterasu, bringing light and life once more into the new year.
At this point, we were all pretty much retardedly tired—so much so, in fact, that I for one didn't even notice that portions of The Princess' coat had been obscuring my lens half the time.
Poop.
Hisachan even got so tired, that she started having trouble concealing her Ninja Powers.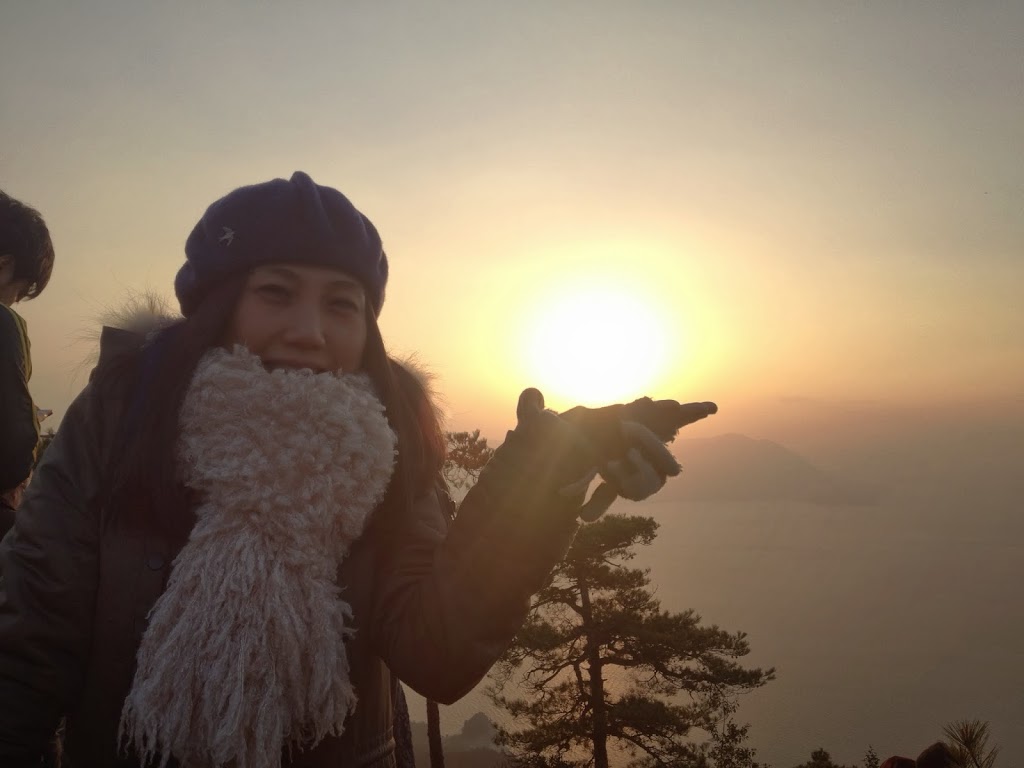 Sleepy Hisa Hadouken!
Amaterasu, now fully risen into the empyrean, washed in glorious daylight our little mountaintop above the sea. The assembled crowd, having now seen that the sun would indeed shine again this year, began wandering back toward the Ropeway station, or down the mountain pathways from whence they came.
When we turned back toward the station, we found the mountain bathed in the soft light of morn.
After stopping in the station to drink water and eat a small snack (mostly consisting of various forms of refined sugar, as I recall), we too set out to descend the mountain—only this time, on foot!
Though already exhausted, we had a long way to go to reach the ferry which would return us to Hiroshima. Mustering what scraps of genkiness we could, we departed, leaving behind us a mountaintop basking in the gilded glow of a goddess.
Domo arigatou gozaimasu, Amaterasu Oomikami-Sama! Jya, mata ne!