I arose, and showered in the kitchen. It was actually Hisachan's birthday that day, but we wouldn't have much time to celebrate until after we returned to Hiroshima.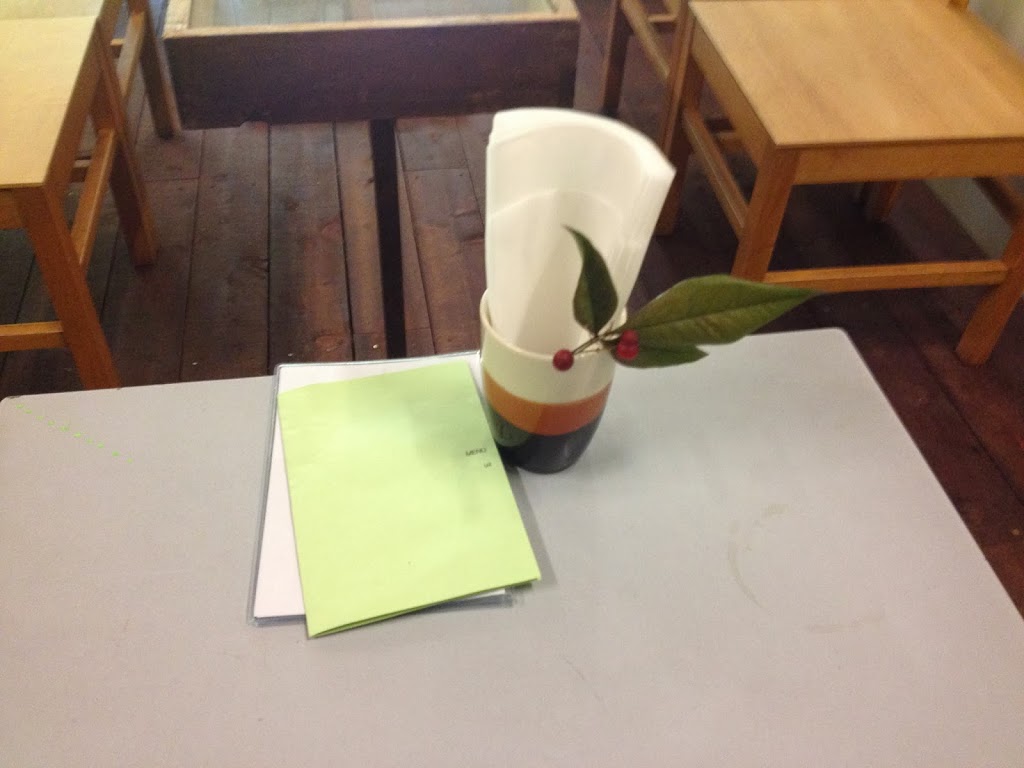 A table in Mikichan's cafe.
I arose, and showered in the kitchen. It was actually Hisachan's birthday that day, but we wouldn't have much time to celebrate until after we returned to Hiroshima.
We departed Mikichan's cafe for a workshop she shared with several other artists. The space was essentially a large two-story warehouse, where Mikichan practiced glass arts. (Her other friends performed metalsmithing, and other various arts.)
After we arrived, Mikichan's artist friends wrapped fresh purple yams in tinfoil, and tossed them directly into a woodstove which sat in a corner nearby.
The yams baked while we sipped tea, and when they were piping hot, we pulled them from the blaze, and devoured them with whatever assortment of utensils came most readily to hand.
Quite strangely, while visiting Uno, Hisachan continually broke her eating utensils. She broke a chopstick at the Udon restaurant, a spoon in Mikichan's house, and then a plastic spork in the workshop.
It was like some kind of weird curse.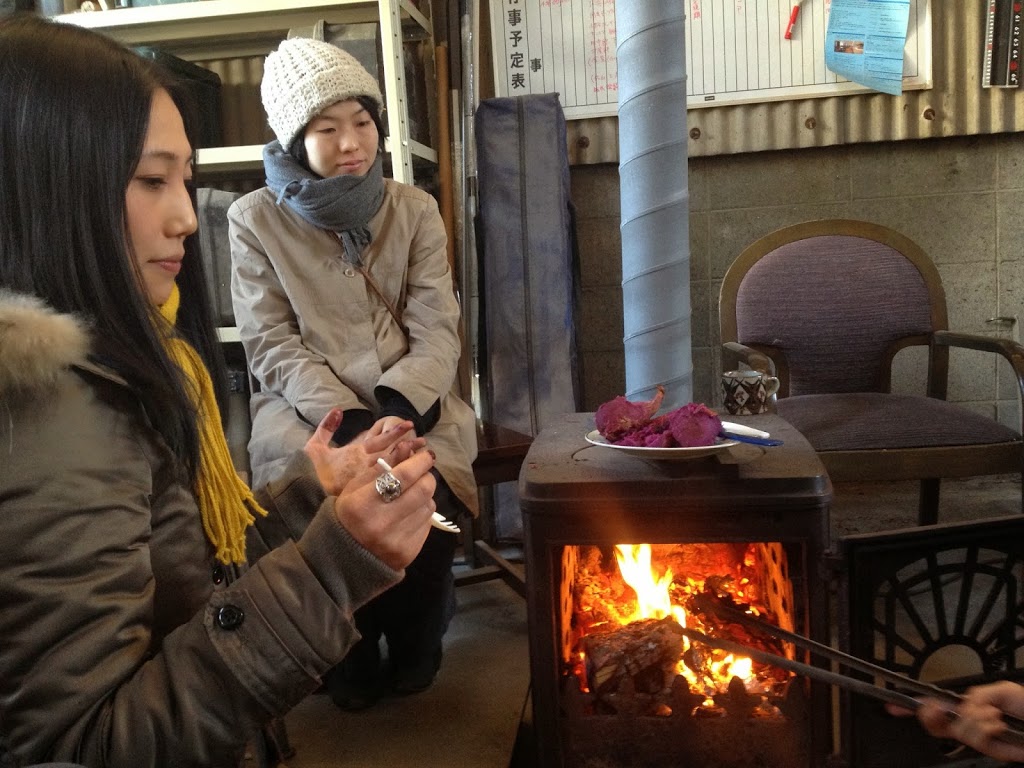 The spork, mere moments from its horrendous demise.
Outside the workshop, near the strange Japanese bathroom facilities, sat this sleepy neko-kun (kitty). His name is Fu-chyan, or Hu-chyan, because "hoo" and "foo" are actually the same sounds in Japanese. Ls and Rs are also the same in Japanese. And there's no "see" sound, only "shi."
This is why Japanese people, when speaking English, sometimes say stuff like "Foo was it?" and "I was frying in an airplane," and "Let's shit outside."
After our yammy jamboree came at length to a close, we departed, and bid farewell to Mikichan, Fu-chyan, and the country town of Uno.
On the train back, we made various stops, including this one…
Can you spot the neko-kun?
I had a hankering to try some random Japanese candy, so we settled on this one—Fruits Goomi, purchased from a conbeenee at our transfer station.
It was tasty, chewy, and fruity, exactly as advertised.
We returned to Hisachan's place in Hiroshima, and enjoyed a modest repast.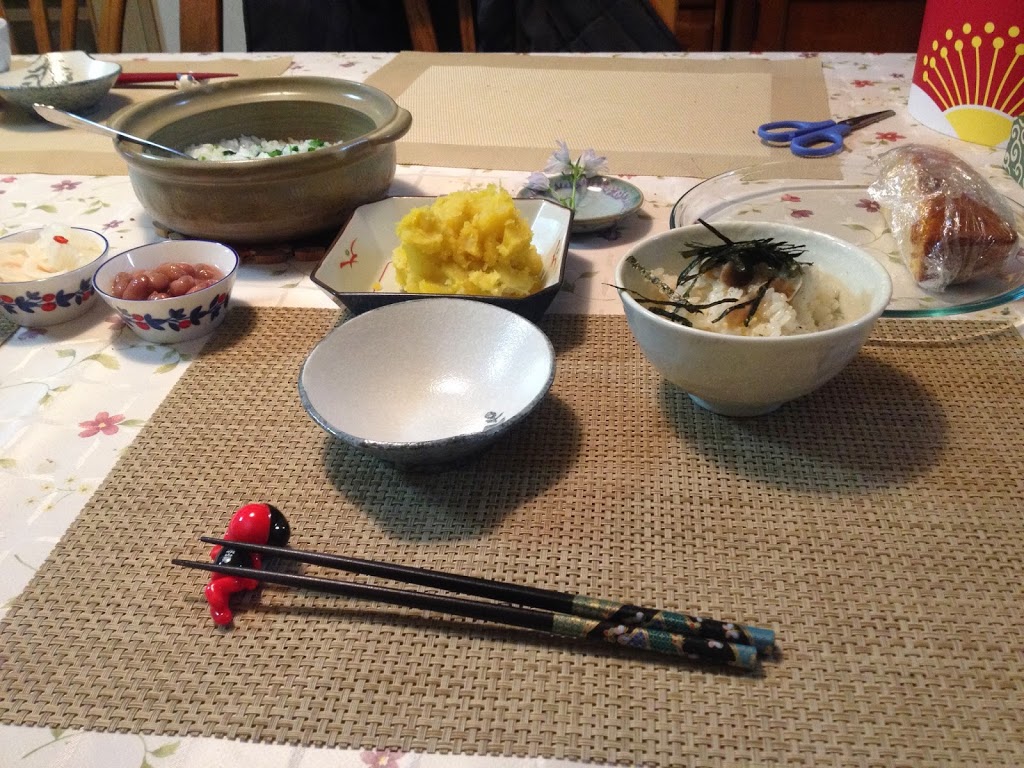 Note the cellophane festooned vestiges of my "Panpukin Keki" at right—all that remained of two loaves!
Chibi-chan was happy to see me, of course.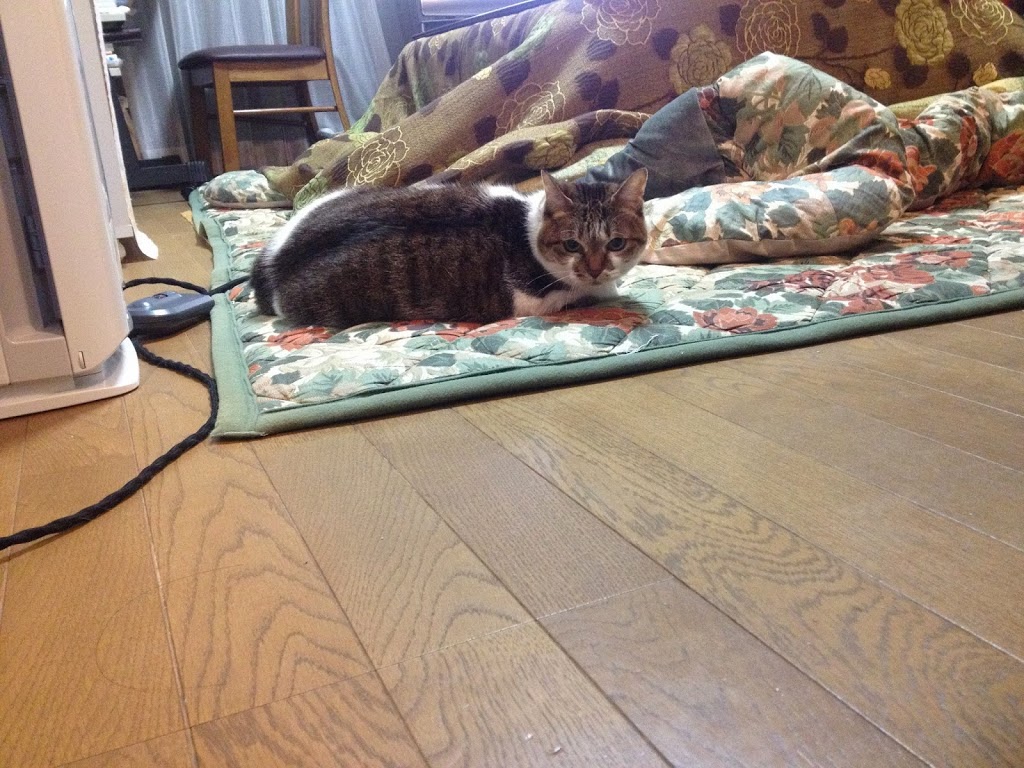 This is Chibi's happy face. Trust me.
Because Hisachan's birthday falls on the seventh, a Shinto holiday called Nanakusa no Sekku (the Festival of Seven Herbs), she always gets to eat a medley of seven Shinto herbs, and drink sacred sake, to fortify herself against the illnesses and misfortunes of the coming year.
In fact, the next day we would visit a Shrine for a special Shinto cleansing ritual specifically because it was her 33rd birthday—one theoretically doomed to be fraught with bad luck.
They take this shit pretty seriously in Japan.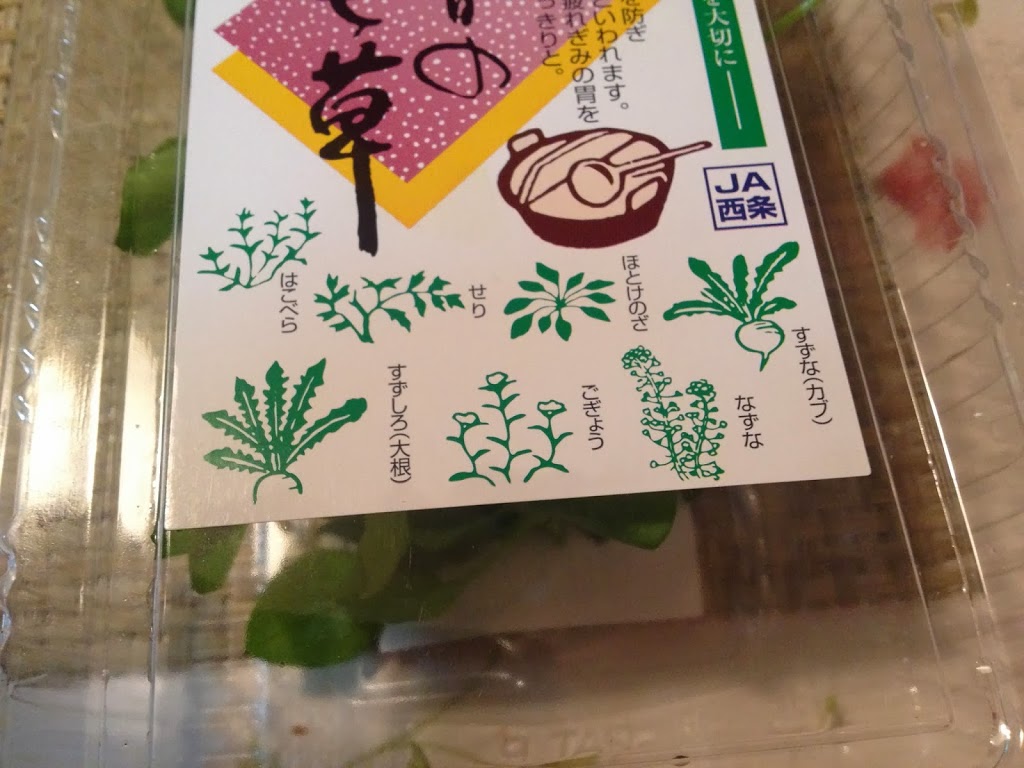 Sacred Shinto herb medley.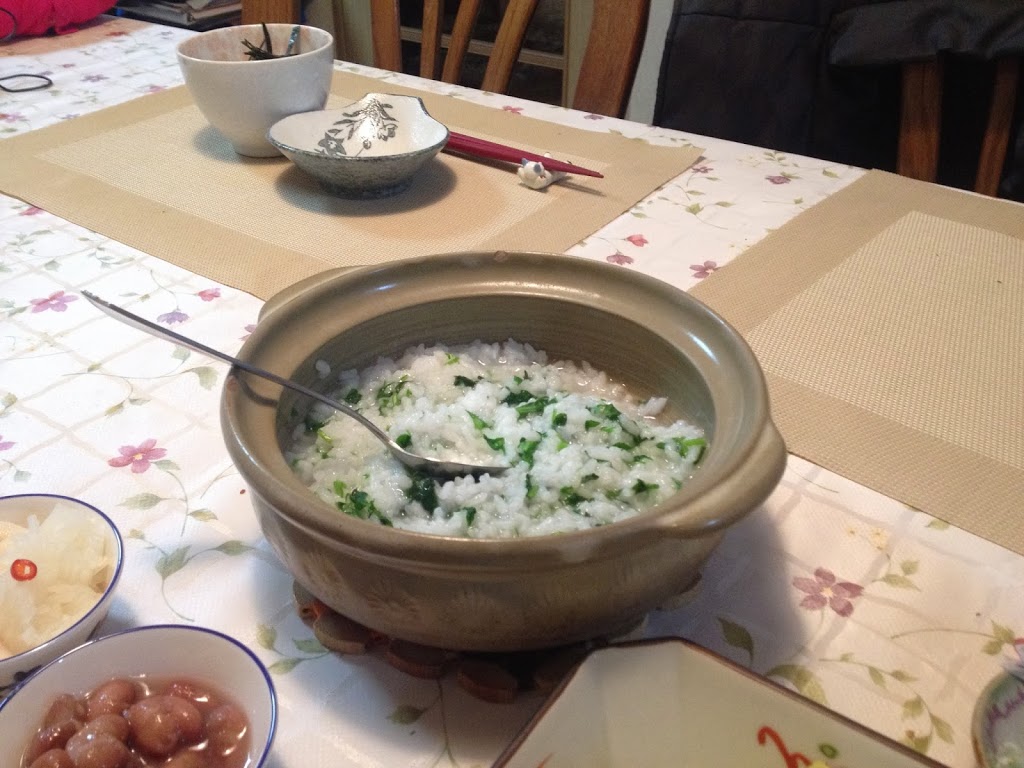 Sacred Shinto herbs mixed with rice. Definitely tasted more like medicine than food.
ちょっと美味しくないですから…
Yet fortunately for me, as the eternal non-drinker, there are many strange and delicious beverages in Japan which are free from alcohol—such as this one which I had in lieu of sacred sake.
Japanese folks love it when stuff is good for your skin, and this fruit medley boasted vitamins C and E—a skintilating combo.
Lucky me!
Hisachan, on the other hand, was just fine with sacred sake.
Happy Birthday, Princess Hisachan!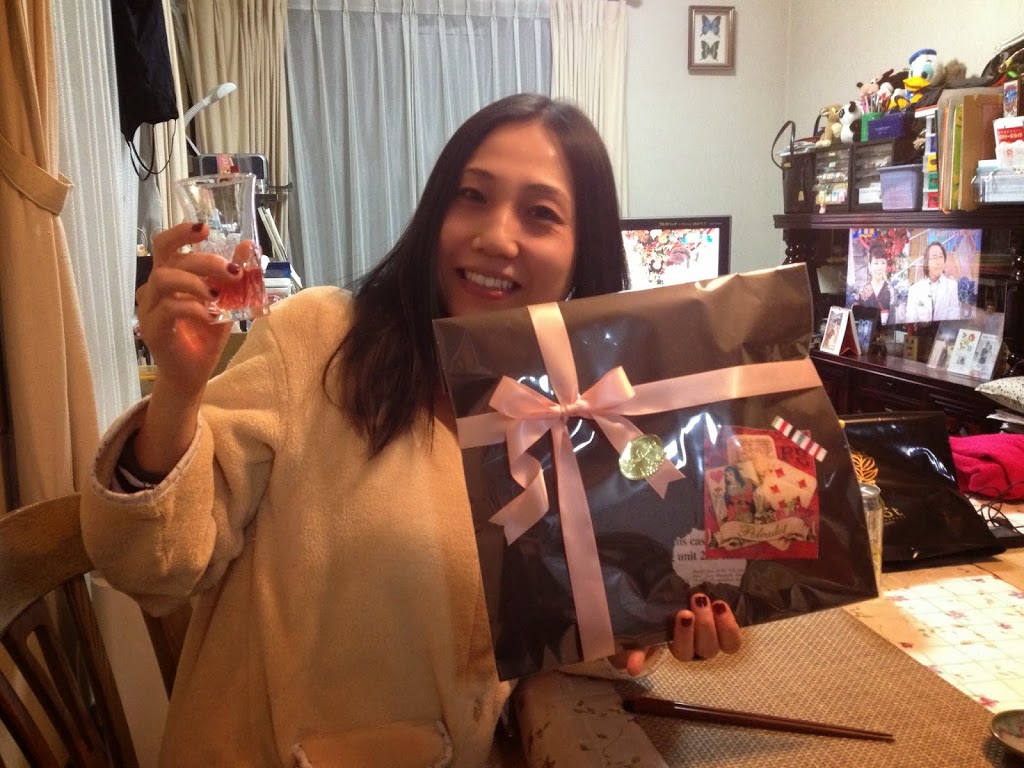 乾杯ね! Kanpai ne!
Cheers!